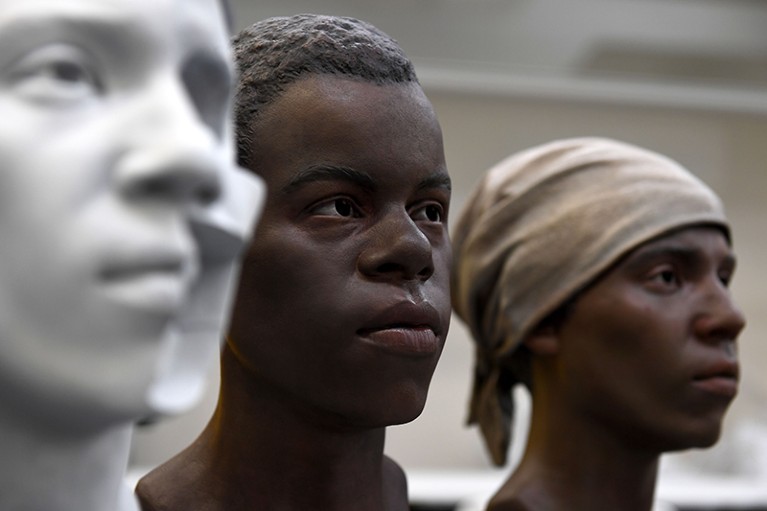 Starting in the 1770s, hundreds of enslaved and free African Americans lived and worked at an industrial iron forge in Maryland. Dozens died at the Catoctin Furnace, their remains and lives largely forgotten until 1979 when part of the site was excavated to make way for a highway.
Now, in a landmark study, researchers have analysed DNA from more than two dozen people who were buried at the Catoctin Furnace and used that information to identify tens of thousands of living descendants whose data were in a consumer genetics database.
The study1, published on 3 August in Science, could open the floodgates to linking the genomes of historical people to their present-day descendants — some direct, but most very distant. This approach could be especially resonant for African Americans and other populations around the world who trace some of their ancestry to enslaved people, say researchers.
"Each time we are able to find an enslaved ancestor, we are defeating the purpose of slavery. The purpose of slavery was to rob us of that information," says Henry Louis Gates Jr, a scholar of African and African American studies at Harvard University in Cambridge, Massachusetts, who was part of the effort. "This is a major development in the history of the use of genetics to trace ancestry."
None of the Catoctin Furnace descendants identified in the study — customers of the personal genetics company 23andMe who had consented to the use of their data in research — have yet been informed of their connections. Providing this information raises important ethical questions, say scientists.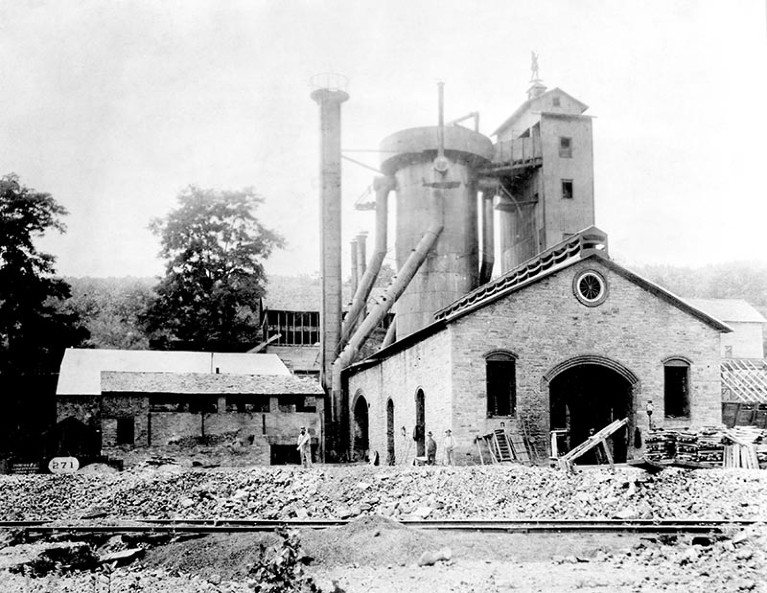 Historical site
After the remains at the Catoctin Furnace were excavated, they were transferred to the Smithsonian Institution in Washington DC. Starting around a decade ago, the Catoctin Furnace Historical Society — an organization founded to preserve the site and surrounding village — set out to learn more about the African American people who lived and worked there, and to identify living descendants.
But initial efforts to identify descendants failed, says archaeologist Elizabeth Comer, the society's president. Records of the enslaved people from the site treated them as property, not as people, complicating efforts to trace their ancestry. "They're not telling the human story of these individuals. And I think that's something we can do with ancient DNA," says Éadaoin Harney, a population geneticist at 23andMe who worked on the study.
Last year, a team led by David Reich, a population geneticist at Harvard Medical School in Boston, Massachusetts, and one of Harney's former PhD advisers, generated ancient-genome data from the remains of 27 people found at the Catoctin Furnace, and made the data public2.
DNA segments
To identify the workers' living descendants, the researchers used an approach that pinpoints relatives on the basis of shared stretches of DNA scattered about their genomes. The more stretches that two people share and the longer the shared segments are, the closer the relationship.
Personal genomics companies use this approach to connect relatives in their databases. But Reich says he isn't aware of any study that has attempted to identify descendants of historical individuals through shared segments. The poor quality of many ancient human genomes makes the comparison tricky.
Reich's team developed a method to overcome this hurdle, and then collaborated with 23andMe, based in South San Francisco, California, to apply it their database of 9.3 million customers who have allowed their data to be used in research.
The researchers identified nearly 42,000 people who share DNA stretches with the people buried at the Catoctin Furnace. Most of these relationships are distant and probably are the result of a common ancestor who lived many generations before the Catoctin individuals, and potentially not in the United States. But the researchers also identified more than 500 people with nearer connections, estimated to be ninth-degree relationships or closer. Some are likely to be direct descendants or other close relatives, the researchers say.
The workforce at the Catoctin Furnace became mainly white after 1850, and historical records offer few details about what happened to the enslaved and free African American workers and their families.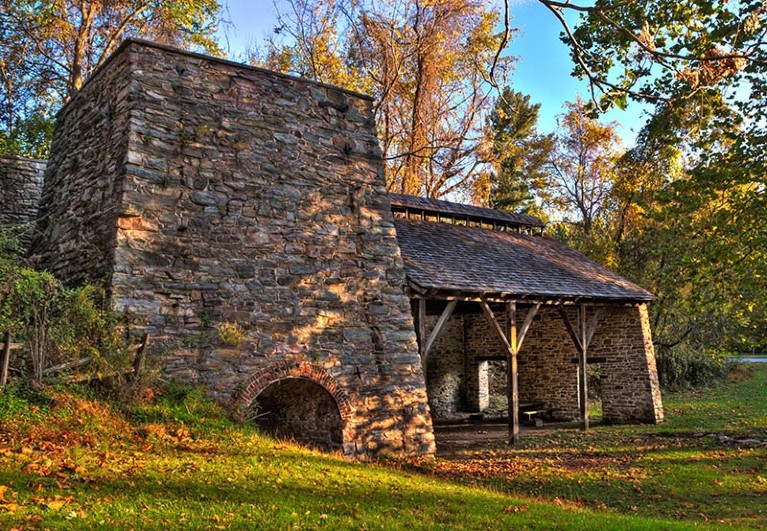 But the analysis offers hints at the workers' varied fates and legacies. People with Catoctin Furnace ancestry live across the United States. But those with especially high levels are concentrated in Maryland, suggesting that some former workers might have stayed put. The researchers also found clusters of people with high levels of Catoctin ancestry in the southern United States, which could be evidence that some enslaved people were sold and moved there.
The 23andMe customers with some of the highest levels of shared ancestry — descendants of a woman who died in her early 30s — live in southern California. "There isn't one answer," says Harney. "There are a few different stories reflecting the diversity of what happened to these individuals."
Powerful research
"It's beautiful work," says Diyendo Massilani, an ancient-DNA specialist at Yale School of Medicine in New Haven, Connecticut, who is from Gabon. He thinks the approach could be a powerful way to connect present-day Africans to ancestors who were victims of the transatlantic slave trade. "People have no idea if they are related to the people who left," Massilani says. The researchers identified 23andMe customers with high levels of Catoctin ancestry whose families were from Senegal, the Gambia, Angola and the Democratic Republic of the Congo.
While the genetic work was under way, Comer, who is white, continued to scour historical and genealogical records and identified two families descended from the Catoctin Furnace workers, one connected to an enslaved African American and the other to a free worker. She hopes to someday connect these families to descendants identified in the 23andMe database.
"I want people to be able to come to Catoctin and embrace it as their legacy," says Comer, whose organization has partnered with the African American Resources Cultural and Heritage Society, based near Catoctin in Frederick, Maryland, to establish a descendant community and learn about the people buried at the Catoctin Furnace.
Harney says that 23andMe is still working out how to make it possible for descendants of the Catoctin workers — and potentially other historical people — to learn about their ancestors. The company already provides interested customers with information about ancestry and their relatives, as well as their health. Customers would probably be required to opt in to receive information about links to enslaved people, says Harney. "You don't want to get an e-mail saying: 'Hey, we found your ancestor, and here's all about them.'" The company also wants to make sure any information it provides is clear and accurate.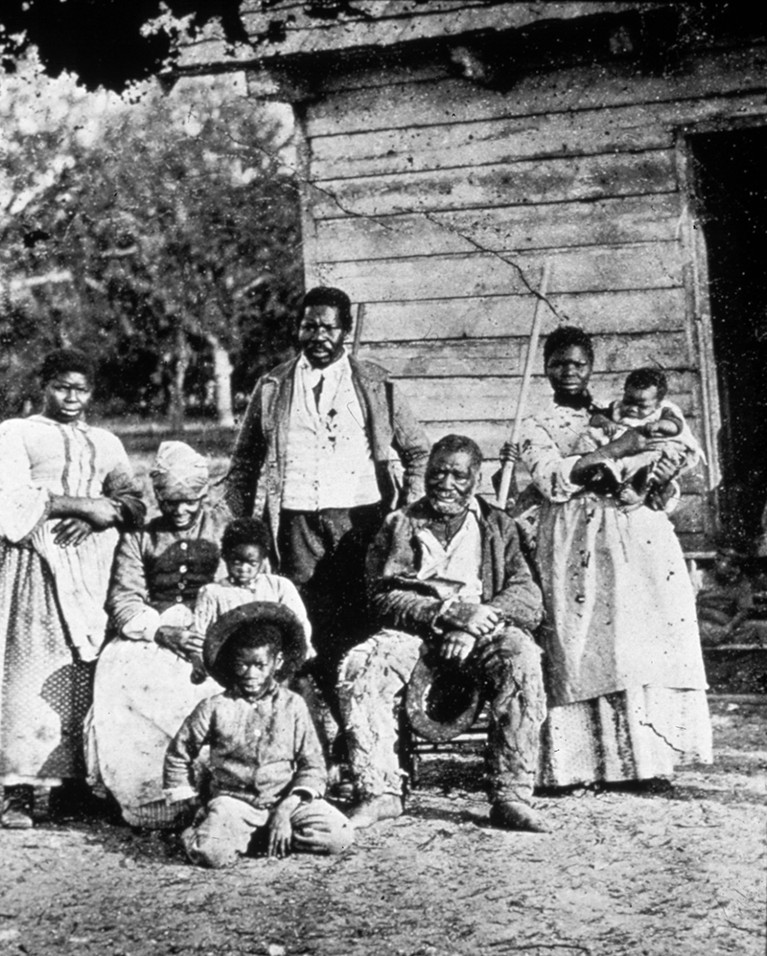 Providing such insights to 23andMe customers is "fraught with ethical difficulties", says Jazlyn Mooney, a population geneticist at the University of Southern California in Los Angeles, who is African American. For one, she says, it's not clear whether community stakeholders and direct descendants identified through other approaches were made fully aware of the implications of widening the Catoctin Furnace descendant community using 23andMe.
"This search means that a for-profit corporation will be holding answers, and data about the larger descendant community will be inaccessible to community stakeholders, which further increases equity gaps," Mooney says. "Descendants and the community must lead and guide the research and not take a back seat to the scientists."
Reich, who is not affiliated with the company, says that informing descendants in the 23andMe database wasn't in the remit of the study, but he hopes people will get the opportunity to learn about their connections. They needn't wait for 23andMe. The ancient-genome data are freely available, as are the tools his team developed. "I have every expectation that people will do this," he says.
Gates, who consults for 23andMe and hosts a US television series called Finding Your Roots that helps people to reconstruct their ancestry, has identified six of his great-grandparents who were enslaved and freed before they died. "That moved me to tears," he says.
Based on such experiences, Gates thinks many African Americans will relish the chance to use genetics to learn about their links to people such as the Catoctin workers. "I have never met an African American who did not want to know as much as possible about the lives and times of their ancestors who suffered in the bowels of slavery."