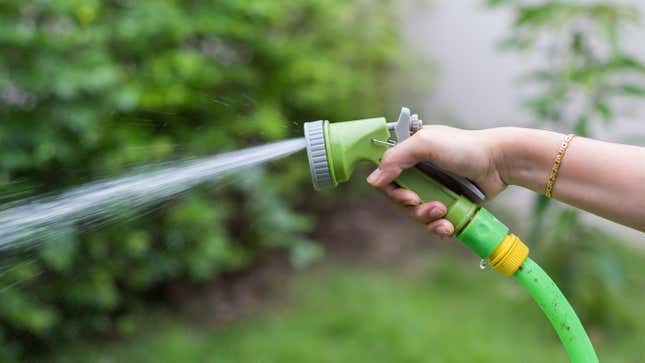 If something needs to be scrubbed, then by all means, do it the thorough way. But some things are just fine being blasted with a hose, saving you time and energy. Here are some things you can simply haul outside to douse with water.
Pet containers
Cages, tanks, crates, and litter boxes all end up filthy with animal mess, and they can all withstand the blast of a hose. Just take containers outside, dump the solid mess into an outdoor trash can, and hose them down. Of course, take out any movable objects that could be harmed by the hose pressure (think hamster wheels, water bottles, and fabrics). If any part of your crate or cage is wood, be sure to let it fully dry afterwards.
Oven racks
This won't work if your oven racks and sticky with dried gunk and need to be scrubbed. But if they're just messy with a fresh spill or wet debris, put them on a tarp outside and spray them down. It's fast and easy, plus you can just leave the racks outside a while to dry before bringing them in and popping them back into the oven.
Garbage cans
Turn your hose into a pressure washer, complete with soap, and spray inside your garbage cans to clean them out. Flip them upside down to get rid of the excess water and leave them out to dry.
Other items you should spray with your hose
These are some simple yet easy-to-overlook household items that deserve an outdoor bath:
Window screens
Shoe racks/boot trays
Laundry baskets
Car mats and other sturdy rugs
Plastic furniture (and other such things that sit in storage and collect dust)
Again, if they need to be cleaned by hand, then by all means, clean them well. But sometimes it helps to have a hose-down day and spray everything down once in a while.