I have a thing for cheap garlic bread—the kind made with white sandwich bread and garlic salt. Maybe it's because it was the first garlic bread I ever had (served alongside what my Southern grandparents called "Italian spaghetti"—that's pronounced "eye-talian"). Or maybe it's because butter, salt, and garlic powder taste good together.
Another low-brow delicacy I would enjoy when visiting my grandparents was cheese toast, made with (more) white sandwich bread and a slice of American cheese. We would pop it in the toaster oven until the cheese puffed into large, browned bubbles, which we would then peel off (and eat) to reveal the liquid Kraft underneath.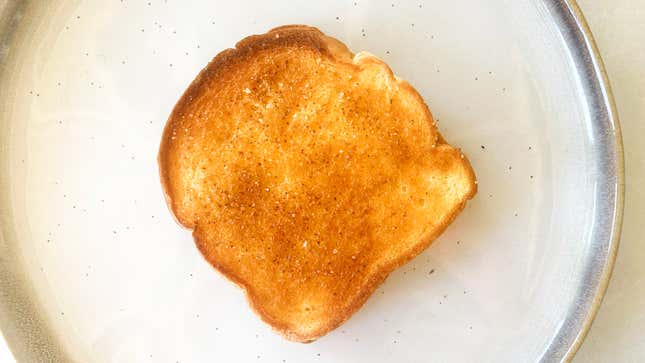 This air fried sandwich is a combination of both of those things, and it is delicious and comforting.
Making a grilled cheese sandwich in your air fryer is easy (not that making one on the stove top is hard): Brush two pieces of bread with butter, stuff some cheese in between them, then air fry at 375℉ for about eight minutes, flipping around the six-minute mark to make sure both sides get some love from the heating element.
---
Top-Rated Air Fryers:
---
You can use any cheese you like, but I favored a combination of white American (one slice) and a small handful of a bagged shredded "nacho" blend, which created a gooey, cheesy layer that reminded me of the cheese toast I would make as a kid. As I hinted at earlier, I also dusted each side with a generous amount of Lawry's garlic salt.
This sandwich is cheap and cheerful—golden, crispy, and slightly greasy on the outside, with lots of savory, salty garlic flavor. The cheese inside gets gooey and stretchy, and the interior of the bread, soft and fluffy. Best of all, it didn't burn when I got distracted by an email (and it definitely would have on the stove). Such is the beauty of an appliance with a timer.
Lowbrow Air Fried Garlic Bread Grilled Cheese
Ingredients:
2 slices white sandwich bread
2 tablespoons melted unsalted butter
Garlic salt
1 slice white American cheese
2 tablespoons shredded cheese of choice
Heat your air fryer to 375℉. Brush one side of each piece of bread with melted butter and season them generously with garlic salt. One the air fryer is heated, place on slice of bread, butter side down, in the air fryer. Place the slice of American cheese on top, followed by the shredded cheese. Finish with the remaining slice of bread, buttered side facing up.
Cook for 5 minutes, or until the top is golden brown, flip and cook for 2-3 minutes more to brown the other side. Serve immediately.