Best Tech Deals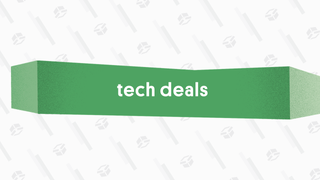 Best Tech Deals
The best tech deals from around the web, updated daily.
Featured Deal: Presidents' Day Sale | HP
HP's savings are truly presidential this week, as the leading PC maker is running a Presidents' Day sale with up to 45% off a wide array of products. That includes affordable laptops, powerful desktops, printers, and monitors, making it easy to get up and running with better hardware than you've got right now.
On top of that, HP has a separate promotion for Omen gaming desktops that let you save up to an additional 10% off already-discounted prices with a promo code. Some of the rigs even have NVIDIA's impossible-to-find 30 Series graphics cards, providing next-level performance. Between the two promos, these are HP's best deals right now.
Save 10% on HP Omen PCs $1,399+
Use code 10GAMER2021 at checkout
If you're trying to find one of NVIDIA's ultra-powerful GeForce RTX 30 Series graphics cards right now, good luck—they're incredibly scarce and resellers are charging double. But if you're looking to make a full PC upgrade, you're in luck: HP has 'em available in new PC builds, plus they're offering bonus savings right now. Just use code 10GAMER2021 at checkout to take an extra 10% off the price of any Omen PC build that's $1,399 or more.
Want a beastly build? HP's OMEN 30L Desktop GT13-0380t starts at $1,800 with the coupon code and comes with a 10th-generation Intel Core i7 chip, NVIDIA GeForce RTX 3080, 16GB RAM, and a 512GB NVMe SSD. Of course, you can spend a lot more on optional upgrades (including to an RTX 3090), and the 10% discount continues to apply if you go bigger.
G/O Media may get a commission
Save 5% on HP Omen PCs $999+
Use code 5GAMER2021 at checkout
If your gaming rig ambitions are more modest, worry not: you can still take 5% off an HP Omen PC that costs $999 or more when you use code 5GAMER2021 at checkout. For example, the HP OMEN 30L Desktop GT13-0280z is an AMD-powered configuration with a Ryzen 5 3600 CPU, 8GB RAM, a 256GB NVMe SSD, and an NVIDIA RTX 2060 SUPER graphics card. It comes out to $1,045 with the code.
HP Laptop 14Z | $280
Here's one of the most affordable laptops that HP has right now: an entry-level Windows 10 device that might not be a powerhouse, but should be just right for basic everyday usage and media streaming. You'll get a 14" HD screen here with an AMD processor and GPU, along with 8GB RAM and a solid 128GB SSD for storage. It's only $20 off, but it's already at a killer price.
HP Laptop 15Z | $330
The HP Laptop 15Z is a lean little number: modest on power, but with a big screen and solid enough specs to handle everyday browsing, streaming, and such. The base 15Z has an AMD Athlon Silver processor with AMD Radeon Graphics, Windows 10 Home, 8GB RAM, and a 1TB hard drive within. The 15.6" screen is low-res at 1366×768 and it doesn't sound like it's super bright, but Netflix and YouTube ought to look just fine on here. And you can upgrade to a touchscreen if you please. It's $50 off right now.
HP Laptop 17Z | $450
Want to go big at a bargain? Amazingly, you can get a Windows laptop with a huge 17.3" screen for just $450 right now in HP's Presidents' Day sale.
This HP Laptop 17Z has lightweight specs, as you might expect, with an AMD Athlon Gold processor and AMD Radeon Graphics, plus 8GB RAM. It does have speedy storage with a 256GB SSD, though. Look, a 17.3" display at 1600×900 resolution isn't going to be super crisp, but at least you'll have ample real estate for multitasking. It's $170 off right now.
HP Omen Laptop 15T | $950
You don't have to be tethered to a desk to get solid gaming performance. HP's Omen Laptop 15T gives you a 10th-gen Intel Core i7, an NVIDIA GeForce GTX 1650 Ti GPU, 8GB memory, and a 512GB SSD. The large 15.6" screen ought to be great for both gaming and media, while that kind of power should be plenty fine for games like League of Legends and CS:GO. Save $100 right now.
HP Slim Desktop | $320
This is the cheapest desktop in HP's sale: a slim tower that should have just enough power to give you smooth sailing across everyday tasks like streaming media, browsing the web, and typing up documents.
The compact computer has an Intel Pentium processor inside with integrated graphics, 8GB RAM, and a huge 1TB hard drive paired with a speedy 256GB SSD. You even get a DVD-RW drive in the mix. Save $80 off the list price.
HP Envy Desktop | $700
Game on while saving $150 in the process with the HP Envy Desktop. It's decently-equipped, thanks to the Nvidia GeForce GTX 1650 GPU, with a 9th-gen Intel Core i5 chip alongside, plus 8GB RAM, a 1TB hard drive, and a 256GB SSD. It's certainly not top-of-the-line, but this modest rig nails the sweet spot between price and performance.
HP All-in-One 22 | $600

This HP All-in-One PC bundles both the brains and screen into one package, saving space while delivering a solid home desktop. With a 10th-gen Intel Core i3 chip and 8GB memory, it won't be a beast for gaming or intense productivity. However, the 21.5" 1080p display and pairing of a 1TB hard drive and 128GB SSD will give you loads of space for media and more. It's $50 off right now.
HP OfficeJet Pro 8025e | $170

HP's OfficeJet Pro 8025e is a fairly modest all-in-one printer/scanner/copier with a 2.7-inch touch display and wireless printing, and it can handle up to 20 pages per minute in black and white (or 10 in color). The printer is shown at list price, but right now HP is offering a bonus in the form of six months of free ink and a two-year warranty bundled in.
HP Neverstop Laser Printer | $250
If your job requires a lot of printing—seriously, a lot—then you'll want a printer that's up to the task of pumping out pages without blowing through ink too quickly. Luckily, the HP Neverstop Laser Printer seems well-suited for the task. It can handle up to 21 black-and-white pages per minute with both wired and wireless printing, and includes a toner tank that'll last for up to 5,000 printed pages. Save $30 right now.
HP 22er 21.5" Monitor | $120
HP's slimmest-ever LCD monitor is an affordable option right now at a $30 discount from the usual price. This 21.5" display comes at a solidly crisp 1080p resolution and has both HDMI and VGA inputs. There are larger, pricier HP monitors right there, but this is a bargain choice if you're looking to save some cash. Take an extra 5% off if you buy it alongside a new PC.
---